I love Speed Scraps, and to be honest they are the only pages I make in two hours.
Most of the time I spend at least twice as much as that on a page, and if I journal, that can take me forever.
I tried a few things out on this page, with drop shadows, inner and outer glow and adjusting opacity levels. Someone asked how I did this, so here is an attempt to walk through some of the different effects I tried out.
Step One:
Choose a photo. (I loved this photo and the confident attitude of my daughter)
I really like the photo, but I wanted to soften it -- there was too much green from the grass.
I also wanted the photo to be more subdued to match the kit I was planning on using.
So I duplicated my photo layer, and changed the layer to black and white.
I then changed the b&w layer (make sure this is on top of the color layer) to "color"
Then I adjusted the opacity layer down (to 65%), allowing some of the original photo to show through. The photo below is the end result.
The important thing to do is play around with the adjustment modes, experiment until you get a look you like. There is no right and wrong.
Step Two:
Choose a background paper
I chose a paper from Dancing Princess
Design's
kit
Dance In The

RainII

, the

AddOn
layered another paper from
Dance In The Rain
above the floral paper
and changed the blending mode to luminosity, to get this result
Step Three:
Create a layered background, sort of like creating a mat, or a page border
I duplicated my grey paper that I changed to "luminosity" in the step above
And decreased the size to 96% of the original, and centered it. This is the result
Step Four:
Create a mat for the photo and place on the page
Step Five:
This has several steps.
I used swirls from
Dance In The
RainII
, the
AddOn
I duplicated the wings, and placed them as if they were attached to Little Miss's back, keeping the wings layers above my photo to be able to place them
I linked these two wings together, and duplicated them (there will be four wings layers)
The duplicated wings layers (and linked all four wings), were then moved behind my photo, but above the photo mat
I did some erasing on the wings layers that are above my photo
(I used the lasso tool and the magic wand to select the area of her body, and then erased those areas)
If you look closely to the wings, you will see a soft bluish halo
I got this effect by adding a soft drop shadow, and here is the fun
an "
outerglow
"
I changed the color of the "
outerglow
" to a dark blue
I got this color directly from my background paper, using the color picker too
(that is an easy way to get the colors from the elements you are using)
For those of you who want to try this out, my
outerglow
was set to
"soft light"
opacity 34%
0 noise
Elements:
softer
spread 64
size 72
color of the outer glow is: 1c454b
Step 6:
Part of the Speed Scraps rules called for
journaling
I was running out of time, so I chose to use some words and put the text on a path
I chose a fun font,
TK
Doodle that has a whimsical flowing feel
I used the selection tool to create a circular shape
I filled this with the paint bucket and moved the circle around the photo until I liked the placement
I then selected the circle and created a path based on this shape
Next I chose my font, with the path active, and started to
journaling
words and feelings
(I will save Texts On A Path for another time, but it sure gets addicting)
Once I was happy with the placement of everything, I deselected my circular shape
so that I could use it later
Step Seven:
I added the other elements to my page and a little bit of
journaling
based on the Speed Scrap instructions, hardware, strings, wrapped ribbon
Step Eight:
I used the embroidered heart from
Chase the Blues Away
by Dancing Princess Designs
I wanted a little bit more behind my photo, but soft and subtle
Something that didn't jump out and grab you, but added a little something
I layered the embroidered heart
blending
my photo and photo mat layers
Here is what it looks like
It is a soft effect, but adds just a little bit of interest
And here is how I achieved that softness
I used the embroidered heart as a "clipping mask"
I duplicated my bluish grey
background
paper and clipped this paper to the embroidered heart element
At first it will seem that there is nothing there since I used the same paper and the same positioning of the paper.
To have it stand out, I added an "Outer Glow" to the embroidered heart element
I chose color #a2664f an orange, based on the colors in the page
Here are the
outerglow
settings I used:
"soft light"
opacity 57%
0 noise
Elements:
softer
spread 79
size 19
Step Nine:
My last detail -- draw attention to the photo
I went back and forth with the step and wasn't sure
The rules of the speed scrap called for a circular shape, and while I
journaled
along a circular path, I thought I needed to define the circle a bit more.
For this I did use an acrylic style. Some day I will figure out how to do this one on my won, but I have fallen in love with the
Clearly Styled Acrylic Styles by

Bec's

Bits
. I love being able to click one button and get some neat style that would take me hours to get on my own.
Remember that circular shape I used to
journaling
along?
I moved this layer above my photo, and applied an acrylic style
I wanted a little definition, but not
alot
Here is what the final page looks like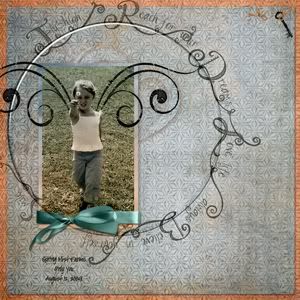 And that is how this page was created.
The page doesn't have many embellishments, but I used some fun effects
Play around with your scrapping software
See what you can do with it
Try out a few new techniques
You might find something that you like to do, and
the more you use a technique or effect, the easier it will be to duplicate